Energy Symposium
Event Wrap-up, Photos and Video from the Green Committee of the American Jewish Committee's Symposium on US Energy Independence
March 19, 2008
The Sallan Foundation's Nancy Anderson, James Woolsey, former director of the CIA and Carol Murphy, Director of the Alliance for Clean Energy, New York were united in calling for an energy policy powerful enough to produce significant cuts in carbon emissions while reducing the vulnerability of the nation's electric power grid.
Anderson highlighted the impacts of civc and individual engagement while the other speakers focused on strategic, legislative, and technology leadership. Woolsey urged industry, government and citizens alike to move away from a dependence on oil while Murphy pinpointed the value of attaining New York State's 25% renewable energy goal.
The AJC's goal of transforming its national headquarters in midtown Manhattan into an ultra-energy efficient LEED-EB building shows the power of civic vision. Hats off!
Introduction: Denise Schreiber, Chair, AJC Energy Task Force and Project Manager, Goldman Sachs
Moderators:
Steve Zelkowitz, National Grid Executive Vice President of Business Development
Martin Rogowsky, Majority Leader of the Westchester Board of Legislators
Ari Wallach, VP of Corporate Development for Seed Media
---
AJC Event (2008) Video Clips
Former CIA Director James Woolsey on the Shiite nuclear weapons program in Iran so all six Sunni States have decided they need nuclear electricty...
Executive Director of the Sallan Foundation Nancy Anderson urges citizen engagement and oversight — measure and verify.
March 19, 2008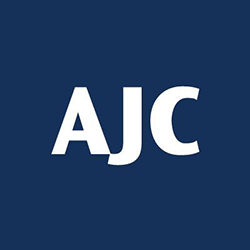 Event Host: The American Jewish Committee (AJC)