Snapshot
Start To Prepare Today For Adopting Passive House Tomorrow
By: Mark Ginsberg with J Russell Beaumont
March 01, 2017
The City of New York has a binding goal of 80% carbon reduction from 2005 levels by 2050. Because buildings consume 75% of energy used in New York City, creating more energy-efficient buildings will be essential for meeting this goal. Mayor de Blasio has pointed to the Passive House (PH) standard [1] as one of the few building energy standards capable of delivering the results to meet carbon reduction goals.[2] PH also creates resiliency by creating buildings that are less dependent on heating and cooling systems to maintain suitable indoor temperatures[3] While PH or an equivalent will likely be incorporated into the City's building codes, making this transition happen smoothly requires planning.
Currently, our firm has two multi-family PH buildings in construction, two in design stages, and three single family houses (two complete and one in construction). The Passive House Institute of New York estimates that constructing a building to PH standards adds 5-10% to construction costs[4]; we have seen a 5% premium. Open communication between stakeholders and a firm grasp of PH principles by all the parties involved helps a project progress efficiently. This piece explores potential bottlenecks to a citywide mandate of PH standards, as well as suggestions for moving forward. It covers two basic areas: PH professional experience (designers, owners, and contractors) in addition to the availability of specialized products and equipment.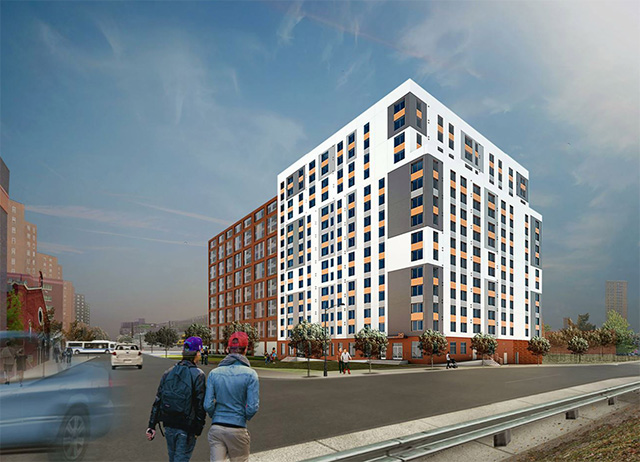 Image Credit: ©C+GA LLC Morris II Apartments
Experience:
Given the pace and volume of construction in NYC, there will be a substantial demand for qualified professionals as PH standards become the norm. Rigorous market research to determine exactly how many professionals would be needed to meet current demands is essential. Until then, a cursory examination suggests that there would be a significant shortage of professionals if PH standards are implemented abruptly. Over the past four years, New York City housing production has issued, on average, permits for 26,000 new units, or about 1,500 buildings. If we assume that a PH professional can manage two projects at any one time, housing alone would require upwards of 750 PH certified professionals. There are currently about 230 PH professionals in New York.[5] The inclusion of schools, offices, businesses, retrofitting existing buildings, and projects outside the five boroughs would further increase the demand for PH professionals. In our estimate, the number of people trained in PH should increase by a factor of five to ten to meet such market demands.
It is also crucial to understand why retrofitting existing buildings will be particularly difficult. Although City adjusted regulations to allow up to 8 inches of exterior insulation to not count toward a building's maximum footprint, this primarily benefits buildings with space on all sides, such as "tower in the park" developments.[6] Many buildings in New York City are historic, have walls on property lines, and have limited yards and courtyards, which makes adding PH standard insulation to the outside difficult or not feasible. Adding to the inside is possible, but typically requires residents to leave their apartment for an extended period, which would range from disruptive to impossible.
Materials and Equipment:
The second potential bottleneck related to a PH equivalent building code is access to materials and equipment required to meet standards. The following illustrate this concern.
Two of our PH projects utilize EIFS (Exterior Insulation Finish System), also known as synthetic stucco. This system allows for a high insulation value with no thermal breaks, and is cost-effective. To meet PH standards with EIFS requires 5 to 6 inches of insulation, but most major manufactures have only tested for 4" of insulation. Through our and other's encouragement, two manufacturers are in the process of expensive testing for the thicker insulation required to fire requirements, making it easier to use the product for PH; but it will be a number of months until the testing is completed.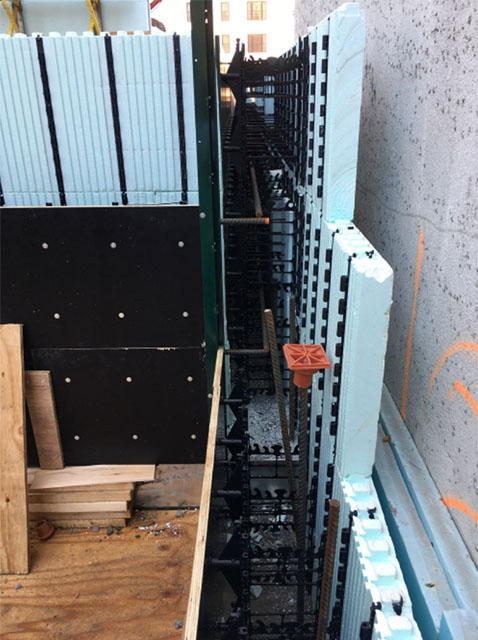 Photo Credit: ©C+GA LLC
Example of ICF Formwork
ICFs (Insulated Concrete Forms) is a cost-effective way to meet insulation and air sealing requirements for PH certification. ICFs stack up like Lego blocks and are filled with concrete. They are made of a foam insulation with studs cast into the form, and create heavily insulated, air-tight walls. We have designed nine apartment buildings using this construction. Yet few contractors in New York City have worked with this system. This lack of familiarity limits the ability to use the ICF system. A contractor / developer we are working with is utilizing ICF's has a manufacturer's technical representative on site for the installation of the first two floors, training the workforce. Over time, methods like this will lead to more contractors knowing how to build ICF buildings, but, it will take several years to bring it up to scale.
Heat exchangers are another important part of a PH building. In the winter, they use warm exhaust air to heat the cool air coming into the building. In the summer, the system works in reverse. Because PH buildings are airtight, providing fresh air is essential for occupant health and comfort. Using a heat exchanger is the way to do this while reducing energy loss. Recently small heat exchangers have come on the market that allow for single apartments to be efficiently ventilated at a reasonable cost. However, over the last two years one of these products has not finished UL testing that would allow their use in New York. The smallest available mini split wall units are too big for a typical room. This requires ducted systems, which result in higher floor to floor heights and increased costs. Smaller wall mounted units would allow rooms to be conditioned and ventilated without ductwork.
Solutions:
To reduce the gap between required and needed PH professionals without creating a bottleneck, we can look to the strategy used by the government in Brussels, Belgium.[7] In addition to streamlining the permitting process for PH buildings and working to ensure adequate supply chains for PH specific building materials, the city of Brussels implemented an innovative public works campaign to ease the transition. First, the city awarded $36 million in grants to 243 energy efficient projects over seven years. As certified professionals and PH compliant materials and services became more common, the government codified their version of PH standards for all public works projects in 2010. As of January, 2015, all new and substantially renovated projects must meet those standards or a version thereof.[8]
The New York State Energy Research and Development Authority (NYSERDA) has started a similar program in New York. They are targeting using their limited resources to fund competitions that encourage clean energy start-ups, provide incentives for retrofitting existing buildings to higher energy standards, and to gather research about green building technologies.[9] The Authority's efforts to give a boost to the expansion of the PH industry are critical before PH standards are incorporated into building code.
Passive House is the future of creating extremely energy efficient buildings, both in New York and nationally, and will be a key component of meeting carbon reduction goals. The government can and should introduce a codified PH standard, but it is important that implementation considers potential bottlenecks in the market before mandating. By gradually introducing incentives for PH standards before creating a PH building code, increasing and predictable demand for Passive House professionals will encourage industry professionals to become trained. New York City's Department of Housing Preservation and Development and New York City's Housing Development Corporation have already begun this process by funding some PH Projects; for example, all of the PH projects our firm is involved with are, in part, funded by these agencies. As supporting industries grow, prices stabilize, and designers become more fluent in PH standards, we believe NYC could codify Passive House standards by the mid 2020's.
---
WhoIs:
Mark Ginsberg FAIA, LEED AP, a native New Yorker, is a partner of Curtis + Ginsberg Architects LLP with over 33 years of professional experience in planning, urban design, institutional and housing projects. Mark has led C+GA's efforts on developments that comprise well over 10,000 units of housing, most of which are affordable and sustainable. He is a past President of the AIA New York Chapter, and is President of Citizen's Housing and Planning Council.
J Russell Beaumont is a designer and researcher with a special interest in socially-engaged design and housing. As a Marshall Scholar, he received a MArch in Architectural Design from the Bartlett School of Architecture at University College London and a MA in International Development with a focus on poverty, conflict, and reconstruction from the University of Manchester and works at Curtis + Ginsberg Architects LLP.
---
Footnotes:
[1] To find out more about Passive House and current trends, see Richard Yancey's article Actively Passive and Ken Levenson's article Passive House Emerges in New York: Effective and Affordable, as well as other Snapshot features available on sallan (dot) org
[2] Building Energy Exchange (2015) Passive NYC: A snapshot of low energy building opportunities, barriers, & resources. Download PDF
[3] Enterprise Green Communities (2015) Ready to Respond: Strategies for Multifamily Building Resilience. Available at the Enterprise website
[4] NYPH (2016) Why Passive House? Available at the New York Passive House website
[5] This number was estimated by adding the total number of professionals listed on the New York Passive House Directory of PH certified members and the Passive House Institute US (PHIUS) Directory of New York City consultants and builders.
[6] Mireya Navarro (2012) "City Council is Set to Encourage Greener Buildings with Zoning Changes". The New York Times, 26 April 2012. Read Full NYT Article
[7] Joke Yoka (2013) Sustainable and Nearly Zero Energy Building Strategy in Brussels.
[8] Building Energy Exchange (2015) Passive NYC: A snapshot of low energy building opportunities, barriers, & resources. Download PDF
[9] Information about specific competitions and research efforts by NYSERDA is available on NYS NYSERDA website