Snapshot
Passive House Emerges in New York: Effective and Affordable
By: Ken Levenson, A.I.A.
March 10, 2016
At long last climate science, public policy and effective remedial actions are coming into growing alignment and Passive House is amassing real-world validation as a powerful tool to achieve needed results. Here's what's been happening.
The science of climate change is now strong enough to alarm even the normally complacent. As Justin Gillis reported in The New York Times recently, scientists now believe runaway global warming could likely require the abandonment of our coastal cities in the 22nd Century and beyond. The constituent horrors of such prospects are simply magnitudes beyond anything humanity has faced in history.
Public policy is gaining starker focus too. Meeting at COP 21 in Paris during December 2015, world leaders agreed that we must limit global temperature increase to 1.5°C above pre-industrial levels to avoid the most catastrophic effects of climate change. This is a seismic downshift from the previous goal of a 2.0°C limit, as a 1.5°C limit will likely require the decarbonization of our economies by 2050.
(c)
Cornell Tech Passive House, Courtesy of Handel Architects
Pushing toward 100% carbon reductions, New York State and New York City already have adopted aggressive policy goals to reduce carbon emissions 80% by 2050. As governments hunt for carbon savings, buildings — responsible for over 40% of carbon emissions nationally and 75% of carbon emissions in New York City — stand out as the proverbial elephants in the room. This was well documented in the NYC report One City: Built to Last.
The great news is we know how to tame these elephants. Certified Passive House buildings can be expected to reduce heating and cooling energy demand by 90% and overall power use by up to 75% — directly commensurate with New York and international policy goals. With such low energy demand, achieving a "net zero energy" building becomes a no-brainer and our ultimate goal, the need for near total decarbonization, can be met.
New York, led first by Passive House retrofits across historic Brownstone Brooklyn, is now home to what will be the world's tallest and biggest Passive House. Rising on Roosevelt Island as the residential tower for the new Cornell Tech campus, it was developed by a joint effort of Hudson and Related companies, designed by Handel Architects, with Passive House consulting by Steven Winter Associates and built by Monadnock Construction. I'm proud that my company, 475 High Performance Building Supply is also actively helping this landmark building with its enclosure airtightness and vapor control — critical elements in Passive House design. The Cornell Tech Passive House was celebrated by Mayor Bill de Blasio at its groundbreaking as a signpost to our future.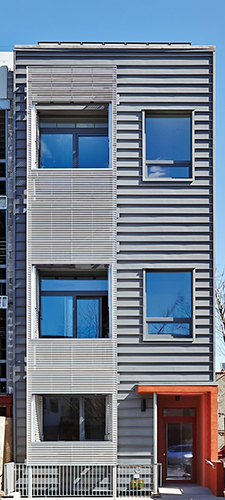 Photo:
R 951 NYSERDA beneficiary
New York City Community Boards are showing support too. Both Community Boards 1 and 5 in Manhattan now have passed resolutions supporting Passive House - citing its critical usefulness in meeting the City's carbon reduction goals.
Witnessing Passive House activity from Orient, Long Island to Buffalo, New York State has taken notice and is taking action. Last September, New York State Homes and Community Renewal (HCR) formally introduced incentives for developers of affordable housing to build Passive House buildings. The move was seen as significant enough for President Obama to announce the initiative as part of a larger White House push toward our clean energy economy. Hand-in-hand with HCR, the New York State Energy Research & Development Authority (NYSERDA) is supporting and enabling Passive House adoption within existing high-performance building programs like the Passive House Certified R-951 building in Brooklyn, that also benefited from NYSERDA Tier 3 incentives.
Here's what's happening right now: on March 9, the New York City Council passed Intro 701-A, a Local Law to amend the New York city charter, in relation to low energy intensity building requirements for certain capital projects (link to Legislation), introduced by Council Speaker Melissa Mark-Viverito. The law mandates 50% energy use cuts for municipally-owned capital-budget funded building projects and requires that by 2017 a plan be put in place so that such buildings will meet Passive House level targets by 2030. The law avoids the term "Passive House" but instead refers to energy metrics that, while not a perfectly exact translation of the Passive House Standard, effectively matches the energy goals of Passive House. The Urban Green Council has published a very informative graph, and blog post, that illustrates the two-step approach.
Of course, 2030 is a long way off. The great benefit of this bill for Passive House advocates is that it repositions the practices of New York City agencies toward dramatically more energy efficient buildings. And we believe that, like in Brussels, once the potential of truly deep energy savings are understood and internalized by the menu of stakeholders, then Passive House should become the inexorable logical conclusion. This bill's immediate utility is in changing the focus, changing the conversations of stakeholders. Once stakeholders realize that Passive House level energy savings cost no more than achieving 50% savings, and likely cost less due to systems optimization – then we expect the question to be turned around to: Why not Passive House today?
New York City also has several programs underway that are looking more closely at Passive House and its potential application to practically every building type, new and existing, for energy efficiency to meet the City's 80 by 50 carbon reduction goals, including the Buildings Technical Working Group, the New York City Retrofit Accelerator, and The Carbon Challenge. City agencies responsible for building, like the Department of Design & Construction, School Construction Authority, the NYC Housing Authority and NYC Housing Preservation & Development are investigating the feasibility of Passive House to meet the mandates of 701-A, but more importantly the imperative of 80 by 50.
Underpinning all this activity are rapidly expanding efforts to share the knowledge required of professionals to design and building Passive House buildings. Leading the efforts is the local non-profit New York Passive House (NYPH), made up of over 200 professional members working in the New York region, and is affiliated with The Passive House Institute (PHI). Joining NYPH in educational efforts are the Building Energy Exchange (BEEx), the Urban Green Council, AIANY, the Association for Energy Affordability and the Northeast Sustainable Energy Association — are all regularly working together to provide more educational events. And one great collector of all Passive House related educational events is the NYPH Meetup Group.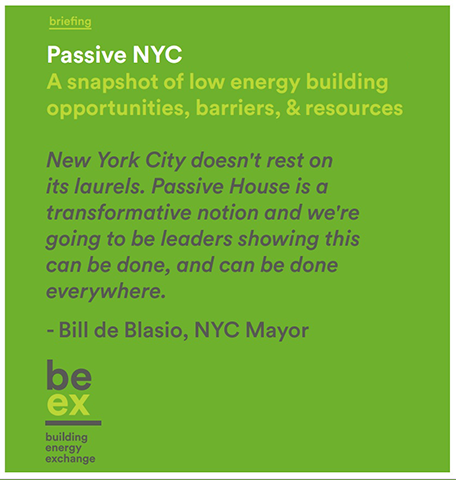 Graphic:
BEEx briefing
In late 2015, BEEx produced a very useful report Passive NYC that provides an overview of trends for policy makers. It explains in depth about how the city of Brussels, Belgium was able to transform its design, building and development industry over the course of seven years in such a profound way as to be able to mandate Passive House performance in 2015 for all new and substantial retrofit buildings, both public and private, commercial and residential. They seemingly figured out how to teach an old "elephant" new tricks.
It is clear that the "secret" to Brussels success was peer-to-peer knowledge sharing, training, and a platform of technical tools and peer review that avoided silos of knowledge by encouraging a community of work, like a town building a great medieval cathedral. Building a low-energy, net-zero future today is the great cathedral project of our time and it will require all able bodies to participate. The good news is that the science is well understood and the training required, while specific, need not be onerous.
The progress since my first Snapshot article on Passive House for Sallan in 2011 has been almost dizzying. Yet given all the activity around enabling Passive House in 2016 I suspect that soon these past five years will be remembered as crawling.
---
Ken Levenson is a founding partner and COO of 475 High Performance Building Supply, the President of New York Passive House and Co-President of the North American Passive House Network.