Snapshot
Resiliency. Sustainability. Equity.
By: Llewellyn Wells
November 04, 2014
There are those who say resiliency, sustainability and equity are at odds with one another. They are wrong. We can have all three — and we must. Like the old saw, "You can have two of these things, but never all three: Fast, Cheap and Good", we are told that equity, resiliency and sustainability can't be achieved concurrently. But I am convinced of the opposite: it is not possible to develop any of these things within a 21st Century city without developing all three of them equally. Inequality is not sustainable, and it most surely isn't resilient. If a place isn't resilient, how can it be sustainable? And what matter sustainability if there isn't social equity and long-term resilience built into the fabric of a community? You see what I'm driving toward and now I want to show you we have pathways to get there.

One of the best scales at which to plan for all three of these elements in a city is the neighborhood or district scale. This is where transformational change often occurs, where people live, work and play, and where people are most likely to commit to the difficult and long-horizon effort that is required. Of course No Man is an Island, and neither is any neighborhood or district. There are systems that only operate at a larger scale — transportation, wastewater, potable water delivery, for example — but even those systems can be affected within an individual district. As Donella Meadows so vividly expressed in her 1999 essay Leverage Points: Places to Intervene in a System, there are points to intervene in existing systems that allow for the most impact, that will bring about the most system-wide change.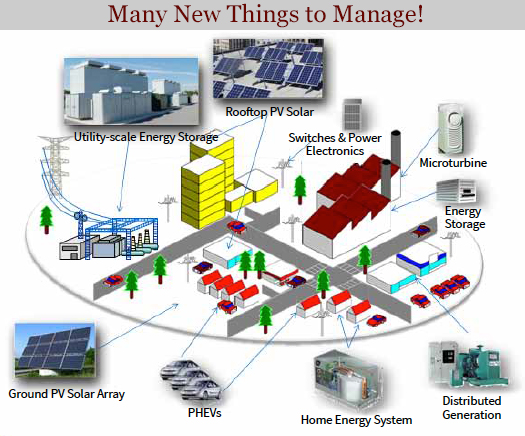 Image: District Scale Energy Systems
Now, new methods are evolving that help bring community organizations, city government staff and commercial sector players together to develop and implement a shared vision for a resilient, sustainable and equitable future. Two of the most nimble, innovative and adaptable are the Eco District Protocol and the 2030 District Challenge. Efforts are underway to bring both of these district scale processes to life in New York City, and the two formally separate teams – the NYC Eco Districts Working Group (NYCEDWG) and the NYC2030 Exploratory Committee – have created a partnership to advocate for establishing a district scale program here in Gotham City! Supported by a grant from an established NYC environmental organization, we are collectively working on the initial phases of an Eco District development in East Harlem and possibly the Lower East Side, while there is emerging interest around a 2030 District in the Rockaways or elsewhere beyond the Manhattan core.
Living City Block (LCB) is leading the NYCEDWG and bringing hard-earned experience and lessons to bear from the Living City Brooklyn Gowanus experience. As I discussed in an earlier Sallan Foundation Snapshot Eco Districts: Making NYC More Sustainable & Resilient, One Neighborhood at a Time, LCB learned some very important lessons in Gowanus: lessons about scale (you need more than a few blocks), about becoming too dependent on key building owners in designing programming (bad idea), and on the need for developing key early years programming that the community can become involved with and come together around (start small and build capacity over time). We are bringing those lessons to bear as we begin the process of engaging the Eco Districts Protocol in East Harlem and the Lower East Side. The Protocol is already being deployed in Boston, Washington, DC, Portland, Seattle, San Francisco, Denver, Atlanta, Charleston, SC. New York Eco-Districts won't be the guinea pigs for well-meaning but untried ideas.
The Protocol begins with concurrent community asset evaluation and stakeholder engagement processes. These methods have been in in use for decades as tools-of-the-trade deployed by city planners, affordable housing developers, commercial developers, and community organizations.. The Protocol makes no attempt to reinvent the wheel. Rather, it puts proven working wheels on a new vehicle for delivery of better — because they are more integrated — results.
In East Harlem, the LOTT Community Development Corporation has emerged as the key leading community partner. LOTT owns 27 affordable housing properties in this neighborhood and has been an integral part of the community for 26 years. Working in partnership with the NYCEDWG, LOTT will help bring other existing community organizations together into a visioning process around what East Harlem sees in it's own resilient, sustainable and equitable future. The programming that evolves out of this process will be community-focused, community-led, and must always benefit the community itself. There is no prescriptive solution that NYCEDWG imposes or requires. Every community is unique and must be in the lead of developing and implementing its own vision.
Still, let's remember that no community is an island unto itself. Regulatory regimes, economic and marketplace issues, zoning and other planning processes, all of these powerful forces need to be examined through a larger contextual lens. But by working at the district scale, participants can bring added focus to understanding what regulations and policies might be changed in order to bring more resiliency, sustainability and equity to the district, and by extension to the entire city. At the district scale, ideas can be test driven without risking the political or market disruption that could occur if new regulations or policies are rolled out city or statewide first. Think Demonstration Project, of which there have been countless examples undertaken in New York City over the past decades, but Eco Districts have the potential to be Demonstration Projects with a difference.
This isn't easy. It takes perseverance, guts, political will, and money. Where will the money come from? There are multiple potential sources. For example, if analysis shows a community microgrid could be built to serve buildings with appropriate waste energy profiles that are close to other buildings with the necessary load profile needs, then there are NYSERDA programs and commercial financing available to be pursued. The New York City Department of Environmental Protection has exceptional programs available for green infrastructure programming, both at the individual property and the district scale. There are foundations and online fundraising platforms like IOBY that can provide funding for community gardens, job programs, last-mile transportation solutions for affordable housing complex residence, etc. There are as many financing opportunities as there are programs that can be imagined and developed. Maybe even Kickstarter!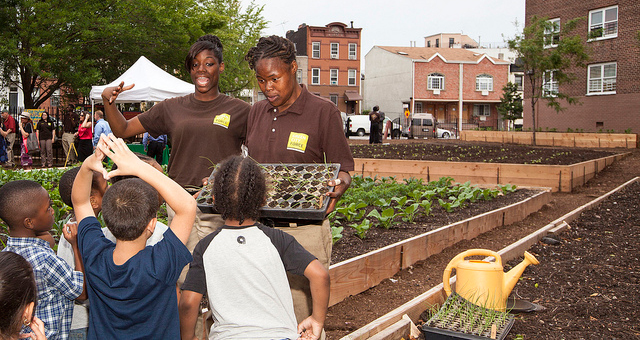 Image: Urban Gardening at NYCHA site
Political dynamics are always complicated and need to be understood at the nano-scale. The de Blasio administration is launching a new community planning process, and East Harlem will be one of the communities chosen for that process. The Eco District Protocol can both serve and strengthen that City-run community planning process, while helping to develop fundable programs which can be launched either during or right after the conclusion of the planning period. Political will is much easier to summon when a program aligns well with existing city and local government goals and objectives. Since the Protocol appears to align with many of the administration's One City Built to Last — 80 by 50 agenda items, the pathway could be less steep.
NYC2030 also brings deep national level experience to our collegial process. There are successful operating 2030 Districts in Seattle, Pittsburgh, Cleveland, San Francisco, Los Angeles and Stamford, CT. 2030 Districts employs an aggregation model to bring building owners and community members together to reduce greenhouse gas emissions, water usage and transportation miles traveled. Cutting GHG emissions is a hallmark of the 2030 mission, while the particular 2030 community creates its own set of goals and programs.
New York City is a city of neighborhoods, a city of districts. NYCEDWG and NYC2030 will help make New York a city of resilient, sustainable, and equitable districts. Stay tuned for updates, resiliency, sustainability and resiliency all in one package will be taking root right here.
---
Llewellyn Wells is the founder and President of Living City Block and Urban Energy Systems Corp. Living City Block ran a project in the Gowanus neighborhood of Brooklyn in 2011–12, as well as projects in Denver and Washington, DC. Currently, Llewellyn is leading the effort to establish Eco Districts in New York City.