Snapshot
Eco Districts: Making NYC More Sustainable & Resilient, One Neighborhood at a Time
By: Llewellyn Wells
April 30, 2014
What is an Eco District? I am glad you asked.
"An Eco District is a neighborhood or district with a broad commitment to accelerate neighborhood-scale sustainability. Eco Districts commit to achieving ambitious sustainability performance goals, guiding district investments and community action, and tracking the results over time. An Eco District is a neighborhood committed to sustainability with the components of empowered people, green buildings and smart infrastructure."
But why now, and more importantly, why in New York City?
Why New York Needs Eco Districts
Living City Block (LCB) is leading a group of dedicated professionals who have been inspired to launch an Eco District-style program in New York City in 2014, although it is not directly affiliated with the Eco-Districts Institute.
Back in February 2012 the Sallan Foundation posted a "Snapshot" written for Sallan by Christina Grace, then the Project Manager of LCB Gowanus. Living City Block shuttered the Gowanus project in late 2012, but oh what lessons we learned! As Christina discussed in that 2012 "Snapshot", LCB had developed a plan to bring together disparate building and business owners — commercial and residential — using an aggregation model to accomplish sustainability projects that would not be possible to accomplish one building or business owner at a time. This aggregation model employed project-appropriate legal governance structures — think a "Building Owners Association" or a "Resource Cooperative" — that brings neighborhood stakeholders together into binding and financeable arrangements in order to implement neighborhood scale energy, waste or water projects.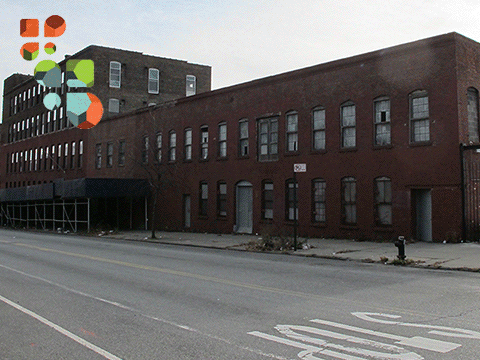 Image: Living City Block Gowanus BEFORE AND AFTER
Living City Block started by joining forces with the Gowanus Canal Community Development Corporation and other key neighborhood organizations to meet the individual needs of 40 separate building owners and businesses in the area, and several hundred residential units in the eight-block stretch of 3rd Street (between 4th Ave and Smith) in Gowanus.
Our efforts centered on a district energy project and multi-property Green Infrastructure program. We worked to bring seven building owners together to partner on a small micro-grid-co-generation plant, and we worked to address the finance modeling and regulatory issues involved in multi-building energy programs in New York City. The Green Infrastructure program was led by the Gowanus Conservancy and several local water-engineering firms, and included rooftop gardens, tree swales and rain gardens at ground level to catch, store and naturally filter stormwater on site.
Gowanus taught us the importance of scale. It is difficult to focus on a small area, particularly one that lacks adequate density and larger institutional building owners. When plans for the private redevelopment of the old factory-warehouse space that was at the center of the systems design fell through, the needed key property to move forward on both energy and green infrastructure projects lost momentum. Funding leads dried up. We lost the attention and commitment of the community. Living City Block Gowanus shut down.
In retrospect, the sustainability and resiliency work we were trying to accomplish was not yet aligned with government, commercial and other civil society goals. We were unable to re-engage the neighborhood; we lacked the narrative to explain the value that Living City Block could bring to the community, as well as to the city at large. But oh what a difference two years can make. Now, post-Superstorm Sandy, the need for more resilient distributed generation assets strategically sited around the City is at the forefront of serious discussion. Today, Green Infrastructure programs are beginning to be viewed as key long-term tactical interventions in efforts to mitigate excessive stormwater runoff while also providing natural buffers during future storm surge events. Think of a super-sponge soaking up stormwater naturally on site before it even reaches the sewer system! Long important to Living City Block, these goals are becoming closely aligned with current government, commercial and other civil society goals.
How Eco Districts Drive Resiliency and Equity
A recognized need for "resiliency" has changed the playing field of urban redevelopment for good. By employing an Eco District type construct to organize communities around long-term sustainability and resiliency goals, workable district energy projects can be developed that will provide crisis response energy services at the district scale. While surrounding neighborhoods remained in the dark for eight days, New York University was able to keep its Washington Square campus lit up after Sandy hit. What if there were many NYU type combined heat and power — or microgrid districts set up around the City? What if an Eco District structure of some kind were able to provide energy services when the grid goes down next time?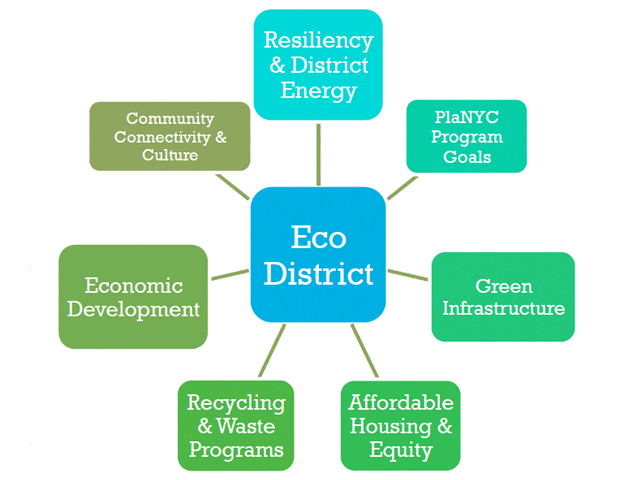 Image: Eco District Chart
As we now know, all it takes for the grid to go down again is an unforeseen event such as another storm, a terrorist attack, a malicious hacker or even a tree falling on a transmission line in Ohio (think summer 2003 blackout). As new co-generation and microgrid technologies gain market share due to increased demand and a rethinking of current regulatory environment (see Governor Cuomo's just released Reforming the Energy Vision [1]), today's prohibitive costs will be pushed downwards tomorrow. Finally, increased onsite energy storage methods and other technology innovations will further help both cost and practically considerations in the very near term.
But resiliency isn't only about crisis management. True resiliency begins when a community is connected, working together to build a better future for itself and provide models and inspiration for other communities. Through an Eco Districts type framework, the many stakeholders within a neighborhood are brought together to vision, design, implement, and manage a more resilient and sustainable future. Working together has additional positive implications that become clear as actual Eco District type programs and projects to build the future emerge over time. The neighborhood builds its own local jobs, economic development, and connectivity programs that develop concurrently with the sustainability and resilience efforts. If those programs are already in place, the Eco District-type process enhances them, as a more cohesive group of stakeholders evolves. As an added bonus, when a crisis hits, the neighborhood is better positioned to come together and share need resources and services.
With many New Yorkers focusing on the need for more equitable and affordable living standards across the city, an Eco District type model deployed can be repositioned to address aspects of this need as well. If a district energy system, or a community wide energy efficiency program, or a multi-block green infrastructure program is initiated within an Eco District framework, there is a concentrated effort to spread the benefits across the community. Often these types of projects are focused, for good economic and existing cultural reasons, only on larger and more economically privileged buildings, institutions and neighborhoods. There is no incentive structure to engage and share benefits with the rest of the community. An Eco District structure can help bring everyone in the neighborhood together to widen the opportunity for a more fair distribution of benefits, strengthening the existing assets while identifying new opportunities for district scale collaboration.
Not only does an Eco District model focus on the larger energy and water infrastructure issues, assets such as access and mobility, urban gardening, waste reduction, recycling and composting programs are also addressed. More importantly, the programs and projects are designed to respond to and resolve the needs that are most pressing to each particular Eco District neighborhood.
Can this work in New York City? Emerging Eco Districts in Washington, DC, Boston, Portland, Seattle, and San Francisco are beginning to prove out. As well, Living City Block brings four years of hard-earned field experience to its renewed effort in New York. Many elements of an Eco District involve processes that are all ready established and successful in existing commercial markets.
New York City is a great mega-city for launching an Eco District type program and our team of stakeholders is working towards that goal. It is a city of neighborhoods suffering from high energy, water and waste costs. While it leads the world in technology and finance innovation, it is profoundly threatened in by our changing, climate. Funding will be available soon out of Albany for Community Microgrid development (the soon to be released NY Prize competition) and is available now from the city's Department of Environmental Protection for cutting edge green infrastructure programs. The exemplary work being done as a result of PlaNYC and many other existing programs create opportunities for an Eco District type program to further existing efforts.
---
[1]
REFORMING THE ENERGY VISION, as well all new technologies prices will begin to push downwards.
---
Llewellyn Wells is the founder and President of Living City Block and Urban Energy Systems Corp. Living City Block ran a project in the Gowanus neighborhood of Brooklyn in 2011–12, as well as projects in Denver and Washington, DC. Currently, Llewellyn is leading the effort to establish Eco Districts in New York City.